Kyle Marinshaw - Research & Analysis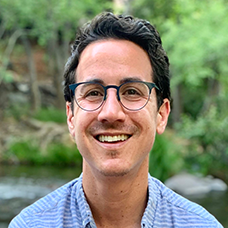 Kyle (he/him) has over 15 years of experience in the nonprofit sector and has worn many hats, including consultant, program officer, performer, researcher, arts administrator, teacher, and public servant. As a consultant with Create Today, Kyle partners with a range of nonprofit organizations, private foundations, and government agencies to support strategic planning, program evaluation, capacity-building, and market and community research.
Kyle was a program officer at the San Francisco-based Koret Foundation where he managed a grant portfolio that supported more than 75 Bay Area organizations across a variety of initiatives, including arts and culture, higher education, youth development, and community health. While at Koret, Kyle designed and launched a $10 million, multi-year initiative to increase access to cultural participation through a holistic intervention that focused on arts education, audience development, and organizational capacity. Kyle also oversaw several capital grants to major cultural institutions, including SFMOMA, Asian Arts Museum, and the de Young Museum of SF.
Prior to joining Koret, Kyle worked for the San Francisco office of WolfBrown, an arts and cultural management consultancy, where he led a range of projects with a diverse roster of clients, including The William and Flora Hewlett Foundation, National Endowment for the Arts, LA County Music Center, the City of Madison, and the City of Sacramento. Kyle also has experience in the public sector and worked at Arlington Cultural Affairs in Arlington County, VA. During his time in Arlington, he supported the Cultural Grants program and managed a portfolio of Space and Services Grants that helped community and heritage arts organizations access county-managed performance and rehearsal spaces as well as technical services.
Kyle also has broad volunteer and leadership experience. He served on the steering committee of the Arts Loan Fund of Northern California Grantmakers, was a grant panelist for the San Jose Arts Commission, provided strategic guidance as an advisory board member for AvenueE of UC Davis, and recently was a grant panelist for the City of Phoenix Office of Arts and Culture and served on both the ad-hoc Spanish panel (for Spanish-speaking applicants) and General Support panel. Additionally, Kyle served as a facilitator in Peru with the Community Economic Development program of the United States Peace Corps.
Kyle has been partnering with Create Today since 2020 and is based in Scottsdale, Arizona. He holds an MA in Arts Management from American University in Washington, DC, and earned his BFA in Dance at University of Arizona.