Valerie Parker Price - Visual Art & Public Art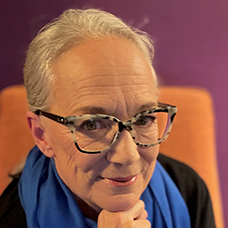 Valerie (she/her) has worked in the visual arts for more than 30 years as an arts administrator and visual artist. Most recently she managed the Salt Lake County Arts & Culture public art program. During her 16 years with the County, Valerie was responsible for the acquisition, curation, conservation, and inventory of an 800-piece fine art collection. All of the pieces are on public exhibit in County owned facilities. She ran the 1% for Art program, adding just over 45 new site-specific installations across the County. She oversaw the management of the selection committees, County clients, artists, stakeholders, community members, architects, and contractors in the project development, artist selection process, and installation.
Prior to her work with the County, Valerie worked with the Salt Lake City Arts Council as a public art administrator; at the Salt Lake City Downtown Alliance in event management; at Sundance Resort managing community arts programming; with the Sundance Film Festival event facility management; and at the Salt Lake Art Center (now the Utah Museum of Contemporary Art) in public relations and event management.
In her professional capacity, Valerie sat on the boards of the Salt Lake Gallery Association (Chair), Bad Dog Rediscovers America, and the Visual Art Institute. Valerie was the 2004 recipient of the Salt Lake City Mayors Artist Award for her contribution to the Visual Arts in Salt Lake City.
In her work as an artist, Valerie has had the opportunity to work on community-based temporary and permanent public art installations including:
As an artist team member with the Utah Transit Authority public art project working directly with seniors and youth to create the mosaics and art glass installations for TRAX transit stations;
An arts instructor in Salt Lake Valley public schools developing temporary art projects that the students created for the schools; and
Overseeing the Utah Arts Festival Children's Art Yard temporary public art installations that kids built during the festival.
Valerie has been working with Create Today since 2018 and is based in Salt Lake City, UT.